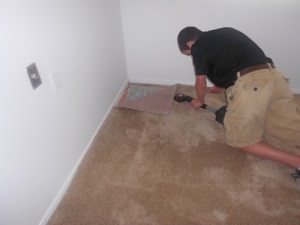 Should You Clean or Replace Your Carpet? If you are considering replacing your carpet because it is heavily soiled you might want to consider a few things.
First off, carpeting is extremely expensive to replace. It would cost thousands of dollars to re-carpet the average sized home. If you have a larger home you might even double or triple that estimate.
Unless your carpet is truly damaged due to things such as tears and rips, you should at least try to clean it before you replace your carpet.
Most carpet cleaners have a fair minimum and can come out and test clean a few rooms to see how they clean up. You might be surprised by the results.
Another reason to consider cleaning over replacement is if you expect to get more wear and tear on the carpet soon. For instance, if you have toddlers who are still in the "spilling" stages, you may want to wait on the new carpet. Or, if you just bought a new puppy that needs to be house-trained, you may want to wait on the new carpet.
Convenience is another factor to consider when trying to figure out whether you will clean or replace your carpet.
A good carpet cleaning service can clean your home in a few hours with minimal disturbance. However, to replace the carpet you will basically have to tear your house apart moving all of your furniture and belongings around. It can be quite a nightmare as you can imagine!
Before you make the decision why not give Xtreme Clean a call. No one knows more about carpet care then we do. We can help you make the right decision.
Take baby steps and see if a cleaning will suffice, contact us at 505-221-6440 before you make the decision to replace your carpet.