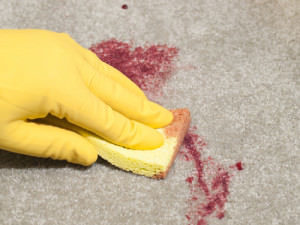 Carpet stains can be a pain in the neck. Many people attempt to get rid of stains and spots, but this is just a temporary fix as those stains usually re-appear. This frustration causes home owner to pre-maturely replace their carpeting when they really don't have to.
One reason people can't properly get rid of carpet stains is because they don't know what products to use and how to use them. The same products that you use to clean your carpet can just as easily wreak havoc on it when not used properly.
Stains caused by cleaning products usually cause permanent discoloration and damage to your carpet, unlike food stains.
This includes substances such as chlorine bleaches, toilet bowl cleaners, drain cleaners, and oven cleaners. Yes, you'd be surprised at what some people try to use to clean their carpets! Especially to try and clean up pet urine stains.
So what do you do when you have unsightly carpet stains and spots that you need to get rid of without making the situation worse?
Your best bet is to hire a professional carpet cleaning company to help you. Reputable carpet cleaning companies are skilled and trained to properly clean carpets. You won't have to worry about your carpet being stained even worse because we know what processes to use and how much to use.
We can even help you repair some damages caused by your own attempts to clean your carpets yourself. We can use dye kits to fix discolorations that have occurred and the top-notch commercial cleaning product to kill germs and bacteria.
Image courtesy of: Stephani Spitzer
If you are looking to get your carpet back into tip-top shape, don't go it alone. Contact us @ 505-221-6440. We are the top carpet cleaning company in Albuquerque and we'll make sure to help you eliminate carpet stains.