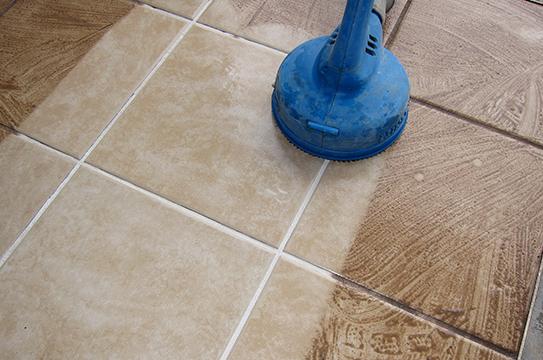 Our team here at Xtreme Clean in Albuquerque is an array of professionals trained in all areas of carpet cleaning. Along with our other services, our employees specialize in tile and grout cleaning for when you want the tiles and grout in your home or workspace cleaned of all dirt, grime, and bacteria and restored to their original brilliance. Our tile and grout cleaning business is built on the quality services we provide our clients and the dedication to customer satisfaction our employees maintain.
Why Professional Tile and Grout Cleaning?
While you could go about cleaning your tiles and grout on your own, our professionals can deliver a cleaning solution guaranteed to remove all the distasteful build-up of fungi and dirt your tiles have collected. In previous generations, carpet was all the rage; now, when most people have young children and animals, carpet is the choice of flooring that almost begs to be covered in paint drips and dirty dog paws. Tile is now installed in almost every home, and while it requires less maintenance than carpet, it still demands upkeep. Tiles can become discolored through years of being stepped or cooked on, and that's why our team offers the finest professional tile and grout cleaning services around. Our solutions dissolve even the most difficult dirt and bacteria particles, making sure both your tiles and grout are left sparkling.
When to Call Us
If your home features tiles in any room that appear to have lost their original luster, Xtreme Clean is the business for you. We are the best tile and grout cleaning company and business, and our employees boast several years of on-site experience and general knowledge of what cleaning solution would benefit your situation most. Our team of specialists will ensure you receive the service you want, removing any and all unwanted substances from your home or business place tiles. We provide comprehensive services that cater to your every tile and grout cleaning need, as our company intends to meet or exceed your expectations.
Finest in Albuquerque
In cases where you are not sure what treatment would be best for your tile, our seasoned specialists will examine your tile and advise you on which treatment works best. We offer a wide variety of solutions for your tile and grout cleaning needs, including high-pressure systems that remove all dirt, oil, and bacteria and even a unique sealant that discourages any future dirt and bacteria buildup while simultaneously leaving your tile and grout luminous and radiant. If you reside in Albuquerque, please give us a call so that we may have the privilege of providing you with top-quality care.
How to Benefit from our Services
Call us today for a free quote or to inspect your property's tile and grout, and our team of highly trained specialists will determine what course of action will produce the highest-quality results. We defend our name as best in Albuquerque fiercely, proving our title through years dedicated to customer satisfaction.